2016 was a quiet year for the British economy – but was it the calm before the storm?
In politics 2016 was a busy year. The vote to leave the European Union; a new Prime Minister; the unexpected election of Donald Trump and Matteo Renzi's failed constitutional referendum in Italy.
However, it was a relatively quiet year for the British economy. ONS statistics released today paint a picture of a labour market calmly ticking along – employment at a record high and consistent, though sluggish, pay growth. Yet underneath this picture of calm there are hints of a far more unsettled 2017.
First the calm. Employment is currently at a record high. There are 30.6 million people aged between 16 and 64 in work, an employment rate of 74.6 per cent. Although employment did not increase as rapidly in 2016 as 2015 (it increased by 0.5 percentage points compared to 0.9 percentage points the year before), and there has been a plateauing in recent months, there is no sign of employment falling.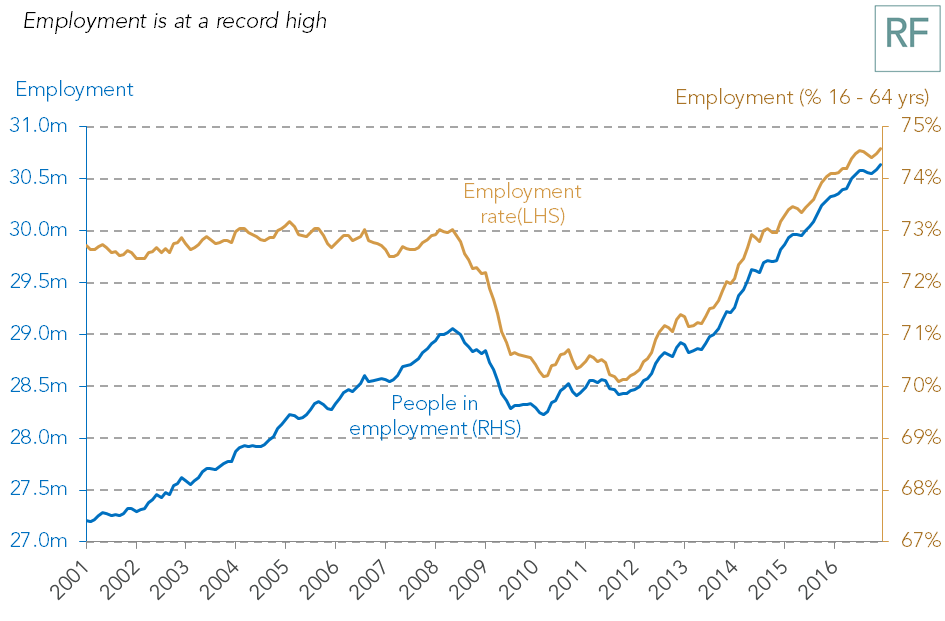 Alongside this rosy employment picture there has been consistent, if subdued, growth in pay packets as well. Year-on-year growth in real pay averaged 1.8 per cent last year.
However a closer inspection of earnings shows a far more troubling picture in recent months.  Real pay growth tailed off towards the end of the year and earnings are currently only around 1.4 per cent higher than they were a year ago. Although we have experienced a welcome return to real pay growth over the last two years it has been lower than the pre-crisis trend.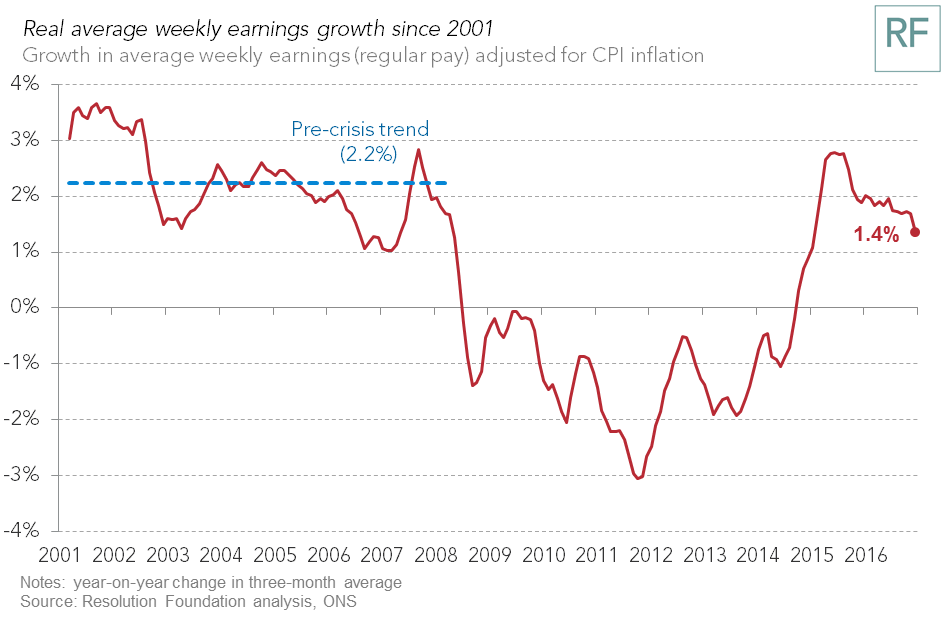 Ominously it is likely that real pay growth will continue to fall. Our projections indicate that growth could fall to 1 per cent in January and half that in February. The reason for this is rising inflation. Already at 1.8 per cent inflation is likely to continue to rise in the coming months and unless nominal pay growth picks up we could see flat or falling pay by the middle of this year. Whether pay can outpace inflation promises to be the key living standards challenge of 2017.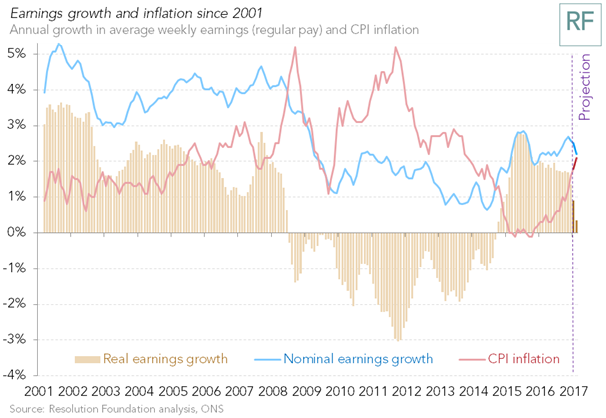 There are also blots on the employment picture which could grow in 2017. While there is no doubt about the unprecedented quantity of employment at present, there are real concerns about the quality of the jobs being created. Self-employment accounts for almost half of all employment growth since 2008. This is not to suggest that all self-employed jobs are of lower quality, and there are plenty self-employed workers that are happy to be so. However, there are real concerns about the true status of some self-employed workers, and our own work suggests that self-employed earnings are lower than they were twenty years ago.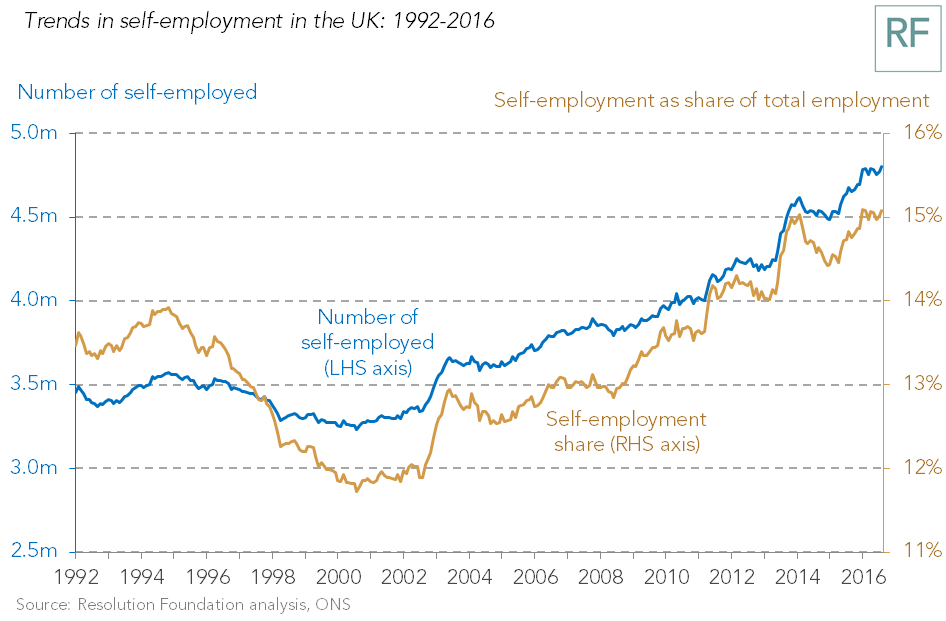 So far there has been little evidence that the vote to leave the European Union has had any effect on the labour market (aside from the fall in Sterling contributing to rising inflation). This could change in 2017. Most forecasters expect employment to remain high. However this could mask some real challenges in sectors that rely on employees from the EU, if fewer such workers choose to migrate to the UK (because of the decision to leave the EU or for other reasons).
Today's statistics showed that there had been a slight fall in the number of EU-born workers, which may foreshadow further falls if people choose not to come, or return, to the UK. Some sectors who employ large numbers of EU-born workers claim they are already seeing this happen. For these sectors, especially those with high staff turnover, 2017 could be the year where they are forced to revaluate their business models.
Last year is increasingly looking like the calm before the storm in the UK labour market. And while some of those stormclouds – such as rising prices – are unavoidable and troubling, others – such as how businesses start planning for a labour market outside the EU ­– are very much up in the air. The decisions taken on this will shape the labour market story of this parliament and the next one.