Britain's labour market has passed peak insecurity
Britain's labour market is at a tipping point and about to enter a new phase, particularly as Brexit finally comes into view. Policymakers have consistently been behind the curve on these shifts. But if we can get to grips now with the changing world of work then we have a better chance of securing the full employment, flexible labour market that workers and companies benefit from.
When the 2008 financial crisis hit, we feared a jobs crash. Government preparations focused on how to deal with unemployment soaring past 3 million as it had in the 1980s and 1990s. Instead, hours and pay packets were cut rather than jobs, and employment hit record levels again in 2014.
But that unexpected jobs boom came with a twist. Over 40 per cent of jobs growth since 2008 has been via self-employment. There are now just short of 1 million workers on zero-hour contracts, and agency work grew by 46 per cent post-crisis. So here we are — almost a decade on from the financial crisis — with record employment, record levels of "atypical" work and an unwelcome record of the weakest pay growth since the Napoleonic wars.
For many, this seems the big trade-off of the modern labour market: vast quantities of work available, but with no strings attached guaranteeing security, hours or pay. Technology, we are told, means ever rising levels of insecure work. The result is an often palpable ambivalence about job growth, where many see full-time work as a thing of the past in an era of Uber, Etsy and Deliveroo.
But there is good reason to believe that the labour market shifts over the next decade will be different to the surprises we've seen over the past decade.
Hidden behind the noise of Brexit, the labour market is entering a new phase. In the second half of 2016 the number of workers on zero-hours contracts flatlined and agency worker numbers actually fell by 50,000. The most fashionable form of work in Britain, accounting for just shy of 100 per cent of employment growth this year, is good old-fashioned full-time, employee jobs. We appear to have passed peak insecurity.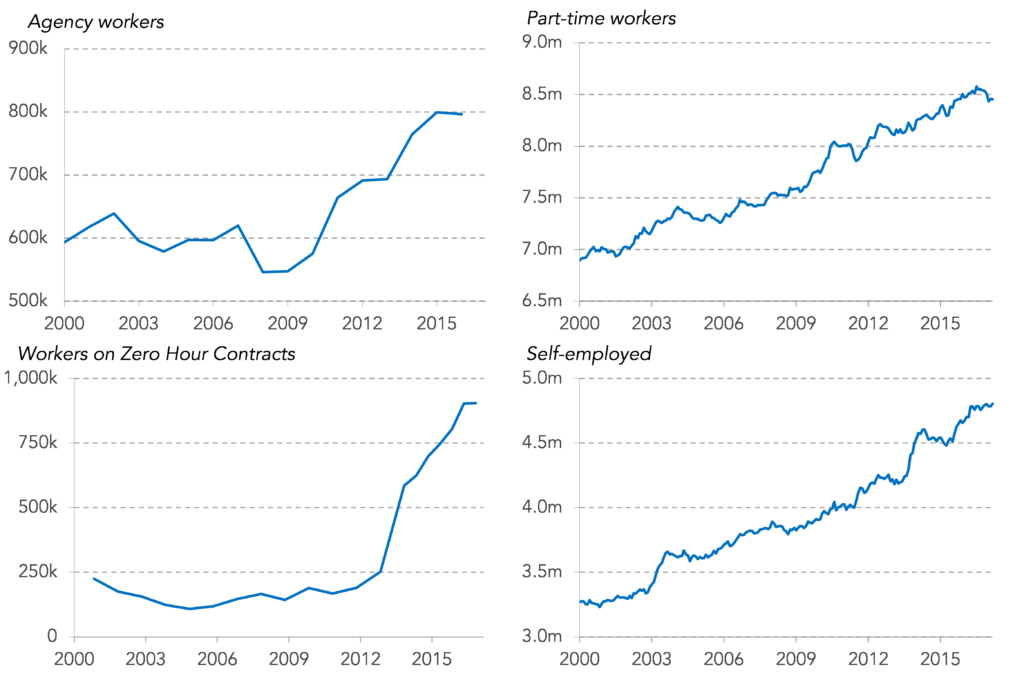 Why has it happened? Economic text books tell us that record falls in unemployment should empower workers to demand bigger pay rises. With pay packets shrinking that clearly is not happening, leading some to question whether technology, globalisation and the decline of trade unions means moving towards full employment is no longer as attractive as it once was.
But they are wrong — the benefits are just manifesting themselves in a different way this time around. A tightening labour market may not have seen a wage boom but it is giving workers more bargaining power, forcing firms to improve the quality, if not yet the pay levels, of work.
So the economic cycle matters more than the fantasies of technophiles. And higher employment is part of the answer to, rather than the driver of, bad outcomes at the bottom of the labour market.
That, however, does not mean we should conclude that the current high levels of insecure work are acceptable — or that they will simply unwind fully. While the bright lights (and investor valuations) of online platforms have led people to over-play the role of tech in transforming our labour market, the role of employment rules and tax incentives has been underplayed. Crucially, these levers can be pulled in both directions and government should start pulling.
The case for change should be clear once we get real about what so-called atypical work actually means for people. For some, yes, taking on such work means more flexibility and less tax. But for many others it means less security and lower pay than even identical regular employees doing same kind of job. The pay penalty for workers on zero-hours contracts is 6.5 per cent — a huge living standards concern.
To address this the government should start to level the playing field across the labour market. That means updating rules and stepping up enforcement so that people's employment status reflects the work they do. It also means reopening plans to equalise access to state support, including maternity pay. More controversially, where self-employed workers have their prices set by employers, including in the gig economy, we should extend low-pay protection so that someone making a reasonable effort is always able to earn at least the minimum wage.
We should ensure the flexibility provided by atypical employment is enjoyed by both parties. Rather than ban zero-hours contracts, workers doing regular hours should be given a right to a contract that reflects that after three months. This would make the modern labour market work for exploited warehouse staff, footloose fast-food workers, students and bank nurses alike.
Who knows, at some point we may even get a pay rise.
This article originally appeared in the Financial Times