Britain's skills record has hindered, not helped, our productivity drive. That needs to change
Over the last week, we've heard a lot about the need to boost Britain's productivity and how education and training can support that drive. First we had welcome new funding commitments in the Budget, then a strong skills focus in the Industrial Strategy White Paper and today we have a Skills Summit. Throughout, the Government has emphasised the need to fill skills shortages and prepare for future skill requirements – and while this is all very welcome, we cannot forget about the need to improve the skills and productivity of those already in work.
One of the more striking new announcements made last week is the National Retraining Scheme in England, overseen by the CBI and TUC.  The Chancellor has committed £36m to digital skills and £40m to construction skills – equivalent to 5% of the 2016-17 Adult Education Budget. The aim is laudable. We need to focus our attention on industries, like construction, that are currently hampered by skills shortages, and those most affected from reduced labour supply as a result of lower migration. We should also prepare people for industries that will take up increasingly significant shares of our economy, such as the digital sector and, in particular, artificial intelligence.
However, this is only one side of the coin.  We also need to boost productivity of those already in work, and particularly those in our large, and largely unproductive, sectors.  And yet Britain has a long-standing poor record on training its workers, and this poor record runs across the labour market: we've bemoaned poor management skills just as managers have highlighted a worrying rise in the number of employees who lack the skills to do their job well. And this matters: firms suffering from skills gaps and poor management are less competitive and indeed, less productive.
So how is the UK measuring up against these skills challenges? Our training patterns display something of a 'Matthew Effect,' with those who have already attained the highest level qualifications (and by extension, found themselves in in the highest paid occupations) being trained at the highest rate. For example as the chart below shows, over 40% of those with Masters degrees reported having recent work-related training during 2016-17, compared with just 8% of those with no qualifications.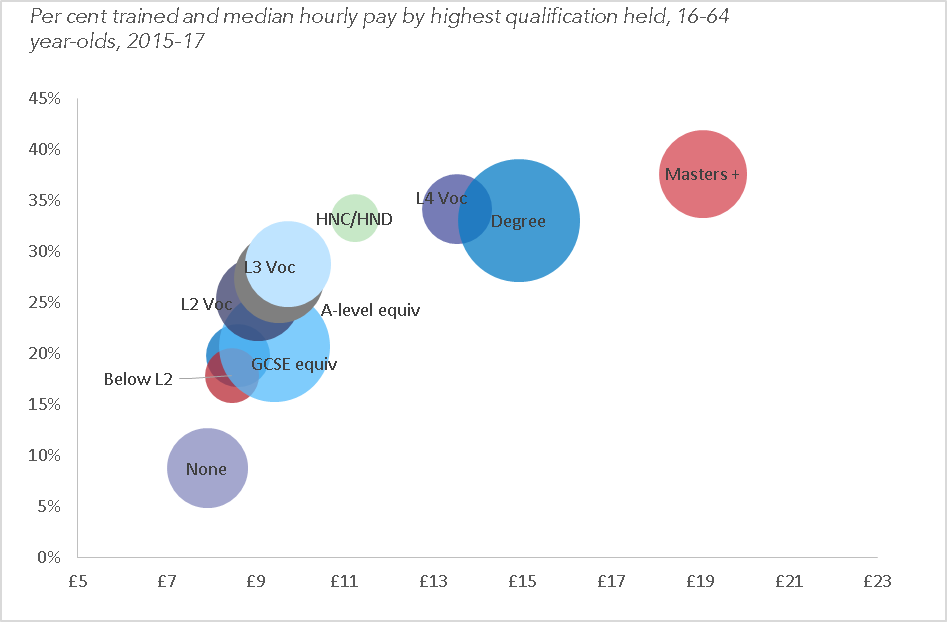 Bubble size indicates share of employment in 2015-17. Training rate reflects the proportion of respondents who had work-related training in the past 13 weeks.  Source: RF analysis of Labour Force Survey
For those lucky enough to have training, there are concerns about quality too. The proportion of workers whose training lasts longer than a week has fallen by nearly a third since 2006 and – as the next chart highlights – this drop has been most pronounced among those in lower-skilled occupations. Older people working in lower-skilled occupations have been particularly affected.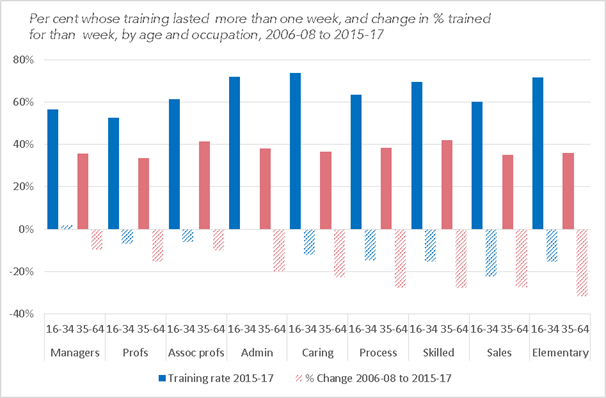 Source: RF analysis of Labour Force Survey
Some of the starkest drops in training duration have come in industries often classed as low pay and low productivity. As the next chart details, sectors like agriculture, retail, and food and accommodation have recorded the biggest drop in the proportion of people in training whose course lasts beyond a week. With such sectors also relatively reliant on migrant workers, you'd think now would be the time for firms to be increasing their training – not cutting it.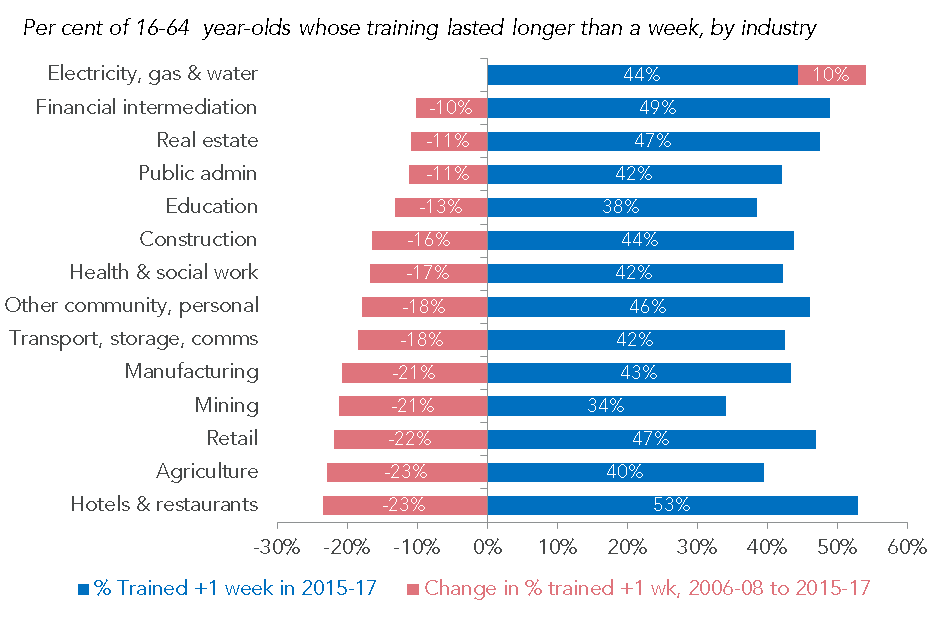 Source: RF analysis of Labour Force Survey
The fall in work-related training hasn't been shored up by growing numbers of adults studying for further qualifications either. Among those classed as employees or self-employed, study rates have fallen across the board since 2006-08. Managers and process/plant workers had the largest falls, down by roughly a third.
As the final chart show, among those who are studying (full-time students excluded) there's been a shift away from professional and vocational qualification and towards degrees. It's unclear if the shift reflects a wider trend of workers looking to transfer into higher-skilled occupations, the sense that degrees are needed to break down barriers to professional/career-related qualifications, or the perception that professional and vocational qualifications have lower returns.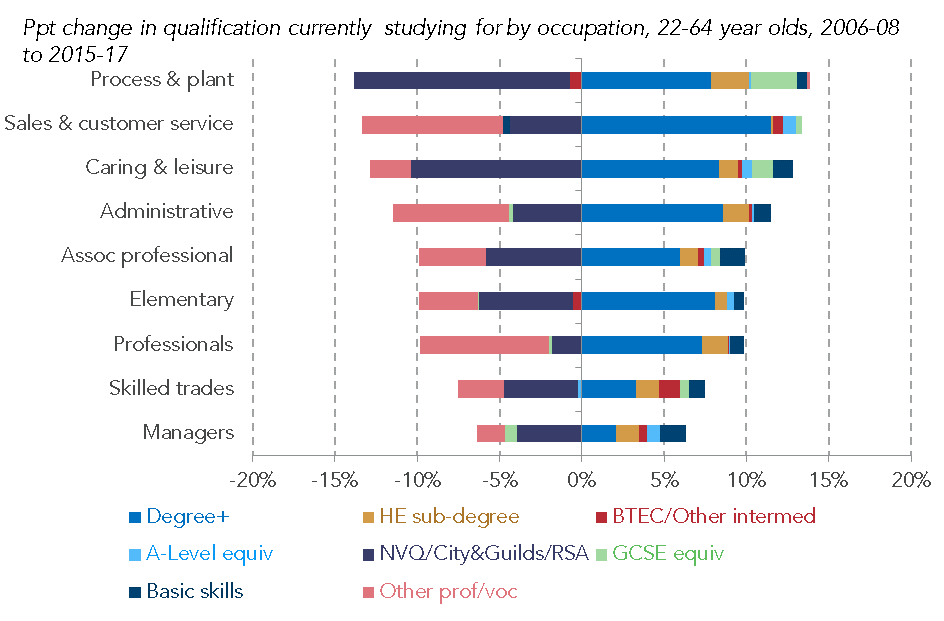 Full-time students excluded. Source: RF analysis of Labour Force Survey
Taken together, the decline in both training and professional study suggests that fewer people than in years gone by are learning to do their jobs better and, in all likelihood, progress to higher levels of responsibility and pay.
This is a huge and growing challenge, especially in light of today's figures showing a sharp fall in net migration. A new era of lower migration will make the need to plug skills gaps, address skills shortages and equip workers for jobs in growing industries all the more pressing.
That will require some relatively profound changes for some. Many firms across all sectors will have to rethink their business strategies and undergo substantial periods of capital investment and organisational change. But it's clear that a big part of the answer will rest with policies to redress the falls in training and wider workforce development outlined above.
This is difficult work, and it requires more than the occasional nod to further education. To get productivity on the right track, we need to increasingly view skills as a central element of the agenda, inextricably linked to discussions around long-term capital or incentives for innovation. The government is certainly right to focus on retraining but we can't forget about those already in work.