It's crunch time for Universal Credit – and big changes are needed
Calls for an end to austerity have dominated the media in recent days with the focus largely on removing the public sector pay cap. But from a living standards perspective, ongoing 'austerity' via cuts in Universal Credit (UC) will make a much bigger difference to those families affected.
The roll-out of UC, which is set to rapidly increase from this month, brings with it a cut in generosity totalling £4billion a year by 2021. That's a loss of up to £2,800 a year for some working families. If we're going to have a proper austerity debate, these cuts should be front and centre of it, not least because they fall on the very 'just about managing' families the government is committed to helping.
These cuts aren't just about income losses through. They fundamentally reshape incentives within our welfare system. As Work in Brexit Britain – a new Resolution Foundation book published today shows – getting the incentives rights in UC is vital in helping families progress out of low pay. But rather than heed progression, the current UC system risks trapping people in low pay. After all, as the chart below from the book shows, the return on a £1 pay rise for a UC claimant could be just 25p.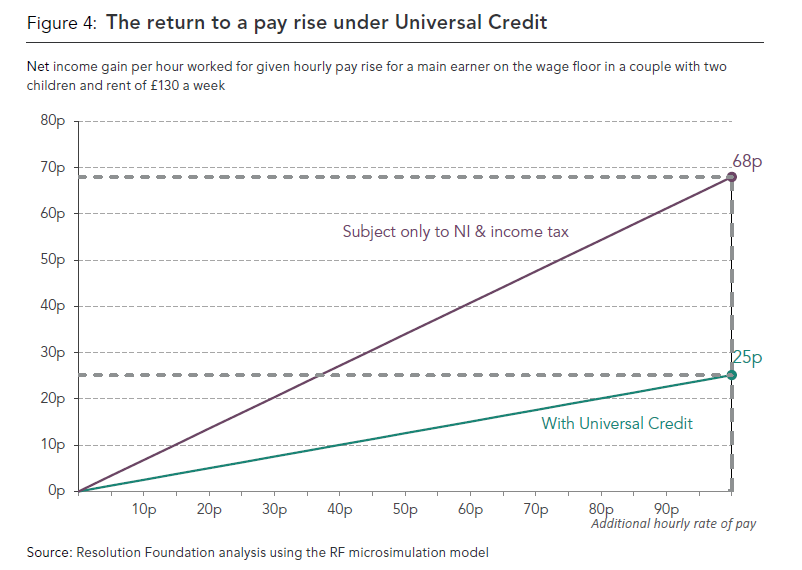 But it's not just the generosity of incentives created by the scheme that are important. How UC interacts with people's lives matters too. This point has been vividly brought to light by the Citizens Advice's report setting out the problems faced by people trying to get to grips with the new system.
This all comes at a crucial time for UC. So far only 530,000 of the eventual up to 7 million families are claiming UC, and very few of those are the working families with children who tend to be associated with the tax credit regime. But that is about to change. This month is a test to see if the system can cope with a faster roll-out pace that begins in earnest in September.
It's also a first major test for the new Secretary of State, David Gauke. Steeped in tax simplification and PAYE reform, delivering a complex benefit system should be right up his street. Beyond winning a scrap with his Treasury replacement to boost the generosity of the scheme, easing the implementation process and simplifying the system would be a big win – and an urgent must.
A key issue is the length of time an individual must wait before they receive any financial support. Delays of up to six weeks before receiving a first payment can leave people attempting to subsist instead of getting on with their lives. For the government that can mean people are struggling to make ends meet instead of looking for work. For the individual it can mean a lack of any income for too long a period of time.
Entangled with those delays are the knock-on effect on support with rent and a build-up of arrears. A quick glance at responses from social landlords to the latest Work and Pensions Select committee inquiry into UC suggests a pattern of higher rent arrears among UC recipients.
Any switch to a simpler, single benefit system, re-organising and combining years old processes and schemes is likely to have glitches. But policy decisions exacerbate them. A switch to a different payment frequency is likely to cause some initial budgeting difficulties for households. A six week wait to receive funds will make it even harder.
Underpinning all those choices is a philosophy which attempts to simplify internal UC processes that in doing so places greater burdens on recipients. Life, which is complex, doesn't fit with an inflexible administration system.
That rigid philosophy has implications for other areas of Universal Credit too. The self-employed are set to find themselves worse off to the tune of £1.5 billion a year due to the introduction of the Minimum Income Floor (effectively a cap on payments for self-employed with low monthly income).
The bewildering maze of complexity that constitutes claiming support with childcare costs is yet to be seriously tested, given few working families with children are in the scheme, but stands as a clear candidate for future failure. And the hoops to jump through on UC stand in stark contrast to the much looser arrangements under Tax Free Childcare (for working families not on UC).
Ultimately there is a tension between a system designed to meet the needs of those it is intended to support and one that is efficient to operate. If the aim is to both provide a level of support that prevents poverty and deprivation that is also simple and easy to use, Universal Credit risks failing on both.
With the rollout of UC set to ramp up and a new ministerial team in place at DWP, now is the time to make life easier for recipients and ease implementation. Both of which will surely make life easier for ministers too.