It's no April Fools' Day for those on the National Living Wage
In a year in which fake news has been a recurring theme, every day has felt a bit like April Fools' Day. When it comes to the National Living Wage (NLW) however, while there might be some trickery over its name – when is a living wage not a living wage? – there's no confusion over the positive impact it's had on the UK's lowest earners. For earners further up the ladder still reeling from a pay squeeze however, the past few years are likely to have felt more like an unpleasant joke. Those differing fortunes look set to continue in the years ahead.
Thinking about the last few years, an important question is who was hardest hit in the wake of the financial crisis? As is often the case, it varies depending on your measuring stick. Just considering wages, it's the lowest earners who have done best – in relative terms at least – with the NLW playing a major role. The hourly pay of someone at the wage floor is now 11 per cent higher in real terms than it was in 2009. While hardly meteoric, and well off the growth seen in the preceding eight years, it comfortably outstrips median pay growth. For workers in the middle, pay is still 4 per cent lower than in 2009. Indeed (and as this highly informative slide pack from the Low Pay Commission highlights) over the period from 2007 to 2016, only the bottom 15 per cent of the pay distribution experienced real wage gains.
Unlike April Fools', the joke doesn't look like it's ending any time soon for typical workers. Casting ahead to the rest of this parliament, the return of inflation means the real-terms value of the NLW is set to be nearly 10 per cent higher while median wages grow by a weaker 3.5 per cent, meaning they're still slightly lower than in 2009, as the chart below shows.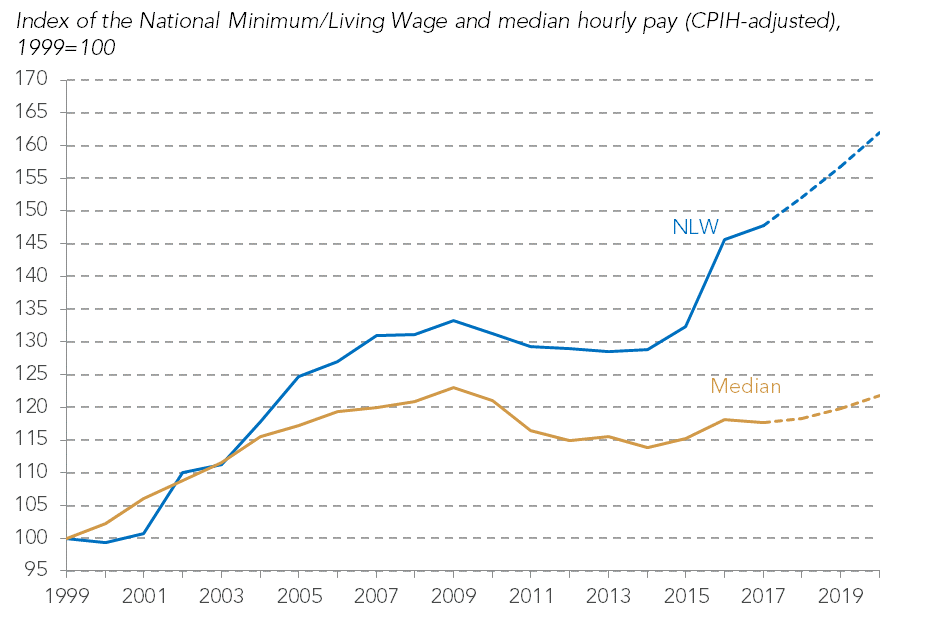 But despite the apparent disconnect, the fates of these two groups of workers aren't separate. The stated ambition for the policy is for its value to reach 60 per cent of median hourly earnings among those aged 25 and over in 2020. A logical consequence is that if median wages grow more slowly, so too will the NLW. Underperforming median pay – relative to projections – has already had an impact on the NLW. Back at the Autumn Statement in 2015, the OBR's best estimate was that the NLW would be rising to £7.65 today, not £7.50.
While this meagre wage growth is of course a disappointment for all workers, the link between the median and the NLW remains a sensible approach. The NLW has already risen rapidly: the jump to £7.20 was one of the biggest in its history and it's now at its highest ever real-terms value. Employment is at a record high and the early evidence suggests no significant impacts on jobs, it's still early doors – some caution is merited.
Of course, how quickly pay grows isn't all that matters: it's important to remember that the level of pay is vital too. If you're just supporting yourself on a middling wage, weak pay growth will definitely be disappointing but the consequences are likely to be less severe than for someone relying solely on a low wage. It's this question of how low earnings and household incomes overlap that is really key when it comes to living standards.
When the NLW was announced, George Osborne presented it as something of a substitution: swapping in a higher minimum wage in place of lower in-work benefits. If not fake news, that was at the very least some sleight of hand, one that is especially relevant this week – cuts to in-work benefits come hot on the heels of the NLW rise. But the two groups are quite different. A low-paid worker could be in a relatively high-income household depending on their partner's earnings, while a single earner paid, say, £9 an hour and unlikely to be boosted by the NLW could be facing significant cuts to their in-work support. And even for a household that does gain from the NLW, the boost to take-home pay can often be dwarfed by the upcoming cuts. For example, a family affected by the decision to place a two-child limit on new claims or births in the tax credit system will find themselves more than £2,000 worse off as a result.
For too many workers, the years ahead look set to bring anaemic real wage rises at best. While the government's ability to influence this may be limited, it has control over benefit cuts. This week then is one NLW workers will welcome, but those facing benefits cuts won't be laughing.