Sticking plasters are welcome but, for the sake of all generations, a long-term solution for social care is required
The day after a Budget is the traditional time for commentators to form a view on just who the winners and losers really are. From this perspective, it would be easy to chalk up the much-trailed announcements on social care as a win for older generations.
But as the Resolution Foundation's Intergenerational Commission is currently exploring, the pressing challenge facing our social care system matters to all of us. This is because we live our lives in families and want the best for our parents and grandparents, and because the fiscal challenge of funding the health and care system for the large and longer-living baby boomer cohort entering retirement is a shared one. So to what extent should the 2017 Spring Budget put us at ease?
First, let's start with the positives. The announcement of more than £2 billion of new funding for adult social care in England is welcome, and badly needed following years of funding shortfalls. Combined with measures announced in the 2015 Spending Review including the social care precept, this means that (in theory) more than £9 billion of additional money has been allocated to social care in this parliament.
Of particular note is the fact that these new funds have been front-loaded, with the majority (more than £1 billion) available in the next financial year, as the chart below shows. This is in contrast to other measures announced since the 2015 election: three-quarters of previously-announced funding for social care falls in 2018-19 and 2019-20 even after the decision in December to bring forward precept flexibilities.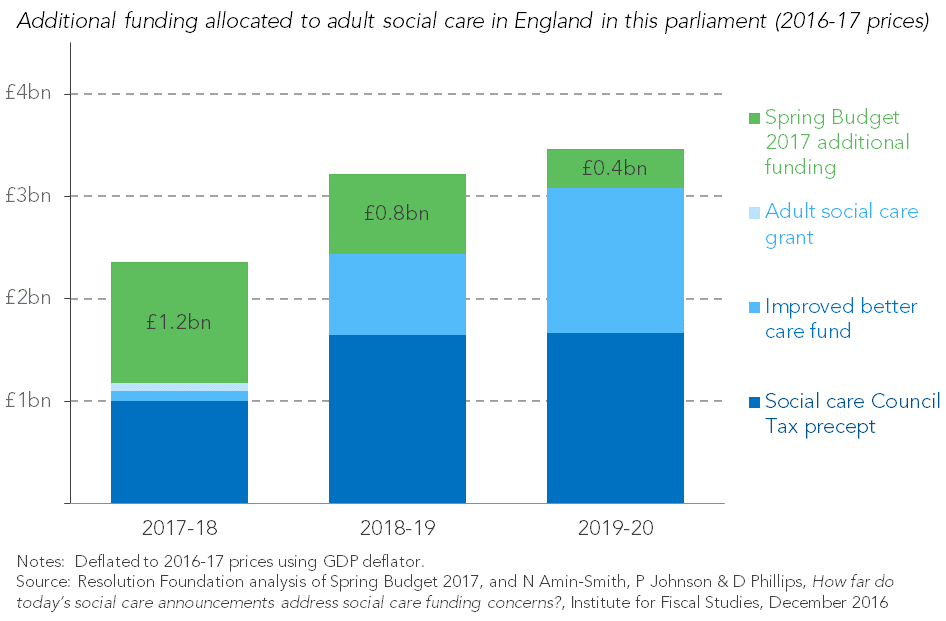 The government highlights that the package announced since the election means that councils will be able to increase adult social care-specific resources in real terms in each of the final three years of the current parliament. Indeed, if (a big if) the amount councils spent on social care in 2016-17 were maintained in real terms and these new funds added on top, spending would increase by 16 per cent in 2017-18, and by almost one quarter (24 per cent) in the three years to 2019-20.
But the 'big if' and 'in theory' above point us to our first area of concern – the displacement risk. Because councils' adult care spending isn't ring-fenced, there's no guarantee that current funds will be protected and the new money prove truly additional. For example, setting aside the £400 million raised from the social care precept in 2016-17, net council expenditure on care from general resources actually fell in cash terms compared to the previous year. This highlights the risk that additional earmarked funds simply displace non-ring-fenced spending, with ongoing pressure on wider council budgets continuing to bear down on the social care allocation.
The second reason for concern is that even if total real care spending increased by the sums the government has set aside, this wouldn't be sufficient to close the social care funding gap. Granted, the immediate cash injection will go some but not all the way towards addressing an estimated funding shortfall of at least £1.3 billion in 2017-18. But looking to the end of the parliament, £400 million of new funding in 2019-20 means that only around 15-20 per cent of the commonly-used estimate of a £2.3-£2.6 billion funding gap that existed prior to this Budget has been filled (and even this might be optimistic – some organisations contend that the real value of the gap is much higher still). This raises the prospect of further increases in unmet need in coming years, with the number of adults who say they don't get the care they need having already doubled since 2010.
While a short-term cash injection is very welcome, these concerns highlight that yesterday's announcement is more sticking plaster than job done. The debate must now turn to the longer-term settlement for care, so it's welcome that the government announced in the Budget that it will publish a green paper on how the system can be put on a more secure footing. As a starting point – and reflecting the fact that we've been round the houses on social care policy options more than once in recent years – it would do well to return to high-profile Commissions that addressed this tough question from two key angles.
First, there is the challenge of protecting people against the risk of having their lifetime savings wiped out by care costs. The Dilnot Commission (2011) proposal of extended means-testing and a lifetime cost cap appears the right way to go. Indeed this approach was enacted in the Care Act 2014, but then shelved in 2015. It's now time to take it back down from the shelf and dust it off.
The other fundamental challenge is sustainable funding for an integrated NHS and care system, which the Barker Commission (2014) set out a vision for, accepting that spending on health and care as a proportion of GDP would need to rise. To fund this, it questioned the logic of some universal pensioner benefits; National Insurance rates for older workers and higher earners (although the lesson from yesterday is that people don't much like National Insurance increases); and the increasing focus on taxation of income rather than wealth derived from property, inheritance and capital gains.
This final point reminds us of why our national social care crisis is fundamentally an intergenerational concern. Facing down demographic headwinds looks much more difficult with a tax base increasingly reliant on the productivity of workers facing 15 years of lost pay growth, as opposed to assets held across the age range but particularly concentrated within older cohorts. For the sake of renewing our intergenerational social contract – the task the Prime Minister has put front-and-centre for those shaping post-Brexit Britain – welcome short-term relief for social care must now be followed by bold policy action.
This blog originally appeared on the New Statesman Staggers blog