Much has been written about the success of the UK economy recently. Last year the country was (almost) the fastest growing economy in the G7 and confounded expectations that the vote to leave the European Union would cause an economic slowdown if not outright recession.
And yet, in many parts of the country this tale of heady success simply won't ring true. First, the UK's growth rate was far less impressive if you take into account that the country's population also increased. Second, the headline growth figures give us a national picture. Look below this, and the growth story of the last decade is one of London and the South East racing ahead to record levels, with many other areas of the countries struggling to return even to levels last seen a decade ago.
Resolution Foundation analysis of official regional growth data (GVA per head), which account for population growth, lays this bare. London's economy is nearly 8 per cent larger than it was before the crisis. Not bad for the city at the heart of the financial crash. The South East and the West of England's economies are around 5 per cent larger.
By contrast a large swathe of cities in the midlands and the north, plus many parts of Wales and Scotland, remain significantly below where they were before the crisis, almost a decade ago. Hull, Sheffield, Cardiff and Belfast all stand out, their economies are over 5 per cent smaller than they were before the crisis.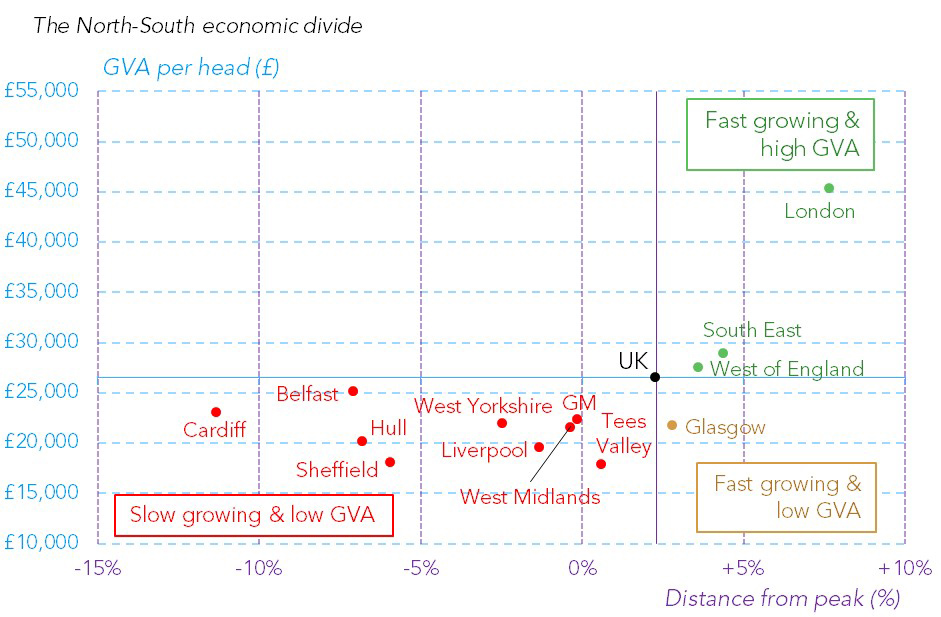 This recovery, or lack of, is rarely discussed. But it matters greatly because even with one of the fastest growing economies in the developed world last year, many places remain significantly poorer than they were a decade ago. It matters even more because the Bank of England now expects slower growth this year, real pay to fall, and household incomes to fall. Hard to take if your income remains at or below where it was a decade ago.
It seems obvious that the economy should be a priority for politicians in any election campaign, but the regional disparities in economic performance need to receive more attention. The new government will need to address these disparities, which have existed for decades. Fortunately those in Westminster will be joined by a new raft of Metro Mayors, elected for the first time last week. Devolution and renewed effort from Whitehall needs to tackle entrenched regional economic disparities before the next crisis hits.
This post originally appeared on ITV News