A tale of two Scottish economies
Imagine two economies. One has just announced strong economic growth, well ahead of the UK. Over time it's become more productive relative to the UK and unemployment is as low as it's been for decades. Then imagine another, in which GDP fell two quarters ago sparking fears of recession. In contrast to record employment across the UK, its labour market is showing signs of ill-health with an employment rate still below the pre-crisis level.
Those who keep a close eye on Scotland's economy will probably have twigged that these two countries are one and the same. Today's announcement that Scottish GDP grew as strongly at the start of 2017 – by 0.8 per cent – as at any time since 2014 is welcome. And Scotland continues to outperform the UK average on a number of economic measures. But growth was very weak over the course of 2016, with output falling in the final quarter of the year. And, years after the financial crisis, Scotland's labour market performance remains uneven.
First, the good news. Growth in manufacturing and the extractive industries bounced back in the first quarter of 2017. The service sector resumed its steady expansion of the past couple of years too. Construction output continued to fall, but the number of people working in the sector has held up. Such resilience has helped the employment rate to creep back up again after a difficult second half of 2016. The unemployment rate is now just 4 per cent, as low as it's been in the past 25 years and under the current UK rate of 4.6 per cent.
But this is just one side of the story. Year-on-year growth in GDP is just 0.7 per cent, with the country failing to top 1 per cent since the end of 2015. Business confidence has fallen and there are 22,000 fewer roles in the shrinking manufacturing sector today than at the same point two years ago. Record low unemployment rates are masking the rise in working-age people who have left the labour market altogether. Economic inactivity is – at 22.7 per cent – higher in Scotland than in the UK (where it is 21.5 per cent). Male inactivity rates at the start of 2017 were higher than at any point since records began 25 years ago, while female inactivity rates were at a four-year high, though the past few months have been an improvement.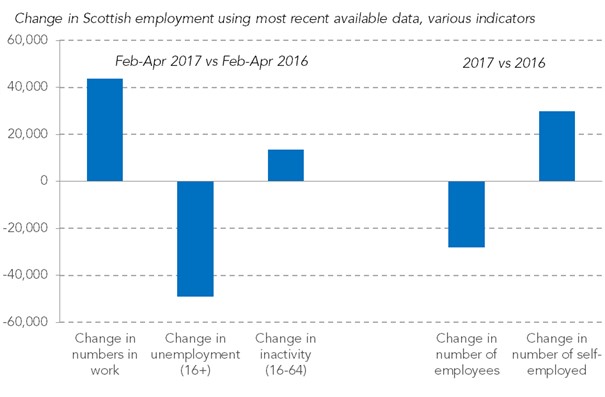 The decline of manufacturing, oil and gas is likely to have played a role in this. The Scottish government's £12m Transition Training Fund to help people who've lost their jobs in North Sea-linked industries was a welcome response. But it would be wrong to conclude these employment concerns are solely driven by oil and gas. There are other weaknesses that warrant closer inspection.
Much of the recent employment recovery has been driven by self-employment, with 10 per cent more self-employed workers in 2016 than in 2015 while the number of employees fell over the same period. While self-employment can be a positive option, people working for themselves earn less on average than employees. Indeed, half of full-time self-employed workers across the UK fall below the weekly low pay threshold. The quality and sustainability of these new roles remains to be seen.
Scotland's workers don't appear to be brimming with confidence either. The share of people switching jobs – an important indicator of the health of the labour market and one of the key mechanisms for rising pay – is now lower than in any other country or region of the UK, barring Northern Ireland.
The picture then is mixed. Which of these two Scotlands wins out will depend on a number of factors. Policymakers at Holyrood and Westminster each have levers that could be pulled. An important first step though is not to kid ourselves that one strong quarter of growth or low unemployment means everything's okay again.