Britain's labour market – the good (jobs), the bad (pay) and the ugly (productivity)
This month's labour market statistics gave us a classic mixed bag of results, with reasons to be cheerful on jobs, confused on pay, and downright depressed when it comes to Britain's productivity record.
Let's start with the good news on jobs. Employment has hit another new high, with recent growth driven by full-time work – which constituted 85 per cent of employment growth in the past year. New jobs have been shared evenly between men and women. Part-time work continues to grow much faster among men than women, continuing the mover towards a more equal division of part-time jobs. However, we know that many men have been unwillingly pushed into part-time work in recent years.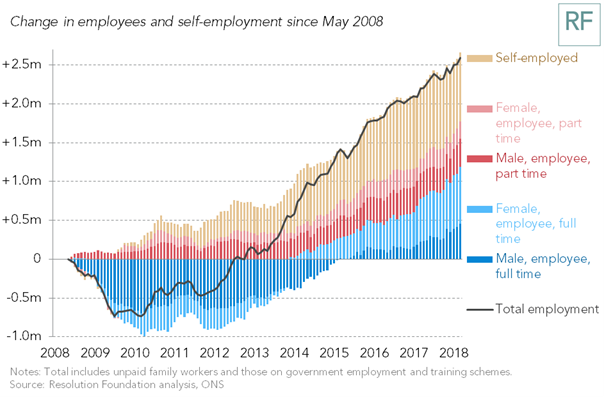 There's also an interesting story going on if we look at employment rates among working-age women and men. The employment rate among men aged 16-64 has hit 80 per cent for the first time since spring 1991, while the rate among women aged 16-59 has reached 73 per cent, closing in on the post-crisis low point for men's employment of 75 per cent (in Q1 2010).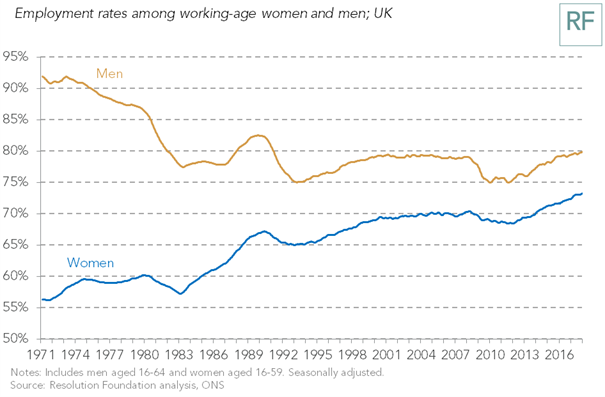 Employment isn't necessarily being distributed across the population in the way people would like, however. Today the ONS released their quarterly indices of overemployment and underemployment – the proportion of workers who'd be willing to change their pay in order to work fewer (or more) hours. Overemployment has been steady over the past year at around 10.5 per cent, while overall around one-in-five workers say they are dissatisfied with their working hours at present.
Taking a geographical look at employment growth in different regions of the UK, we see strong employment growth is being felt across the board, with some of the lowest-employment parts of the country (such as Northern Ireland and the North East) experiencing the fastest growth.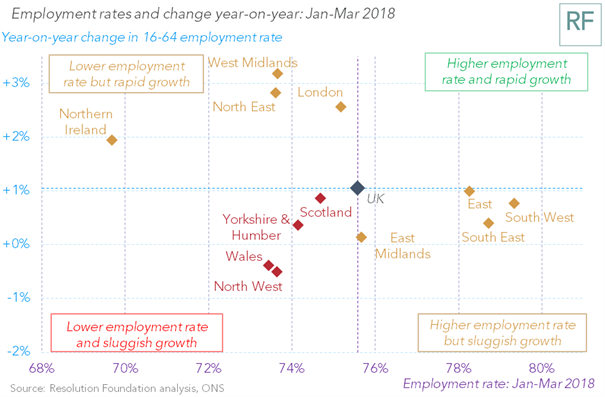 Another noteworthy trend is in the number of EU nationals in employment. This has fallen once for a second quarter in a row, the first time this has happened since the crisis.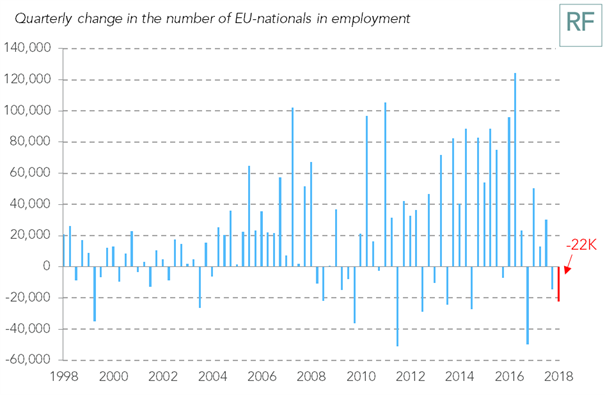 So that's the good news on jobs, but what about pay? Here, the story is more mixed. Britain's 12-month pay squeeze has finally ended, with year-on-year real earnings growth strengthening to 0.4 per cent in the three months to March 2018. Pay growth should continue to strengthen over the course of this year, as more workers get nominal rises and as inflation stabilises.
The recent pay squeeze has been toughest in the public sector, where long-running real-terms pay cuts are only just starting to come to an end. For the whole public sector excluding publicly-owned banks, average weekly pay is now rising slightly for the first time since December 2016.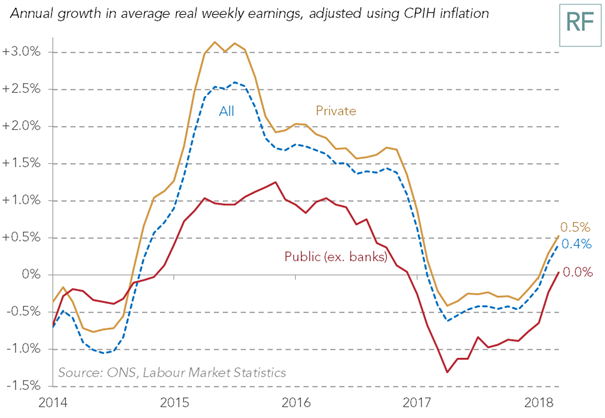 But before anyone gets too optimistic on pay, just remember where Britain is compared to before the financial crisis. Average earnings remain £14 a week – or £730 a year – lower than they were a decade ago, and recent forecasts from the OBR and Resolution Foundation suggest that pre-crisis pay levels still won't be regained until the middle of next decade.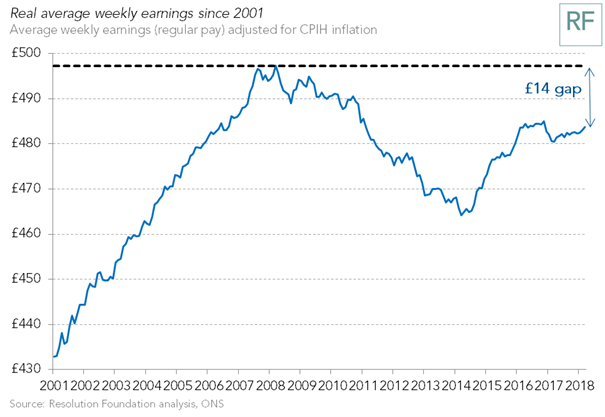 That's the past, then – but what about the future? Here's where it gets really ugly. The last decade's pay disaster has mainly been driven by weak productivity growth, which looked like it might be turning a corner in the last months of 2017.
Yet today's sharp fall in productivity has extinguished that glimmer of hope. It looks like the OBR was right in its March assessment that the late-2017 productivity lift-off was no more than a blip (or an error in the working hours recorded). Total hours worked moved back upwards in the first quarter of this year, pushing quarter-on-quarter productivity growth down by 0.5 percentage points and leaving year-on-year productivity growth at just 1 per cent, well down on the pre-crisis trend of 2.3 per cent per annum.
With productivity continuing to limp along, output per hour worked is now just 1.2 per cent higher than it was at the end of 2007. To put that in perspective, just consider that had the pre-crisis trend continued, productivity would be more than 25 per cent higher than it is today.