Can political parties capture the hearts and minds of young and old alike on polling day?
All elections have a theme. The last two were fought on living standards and the deficit. This one is about Brexit first and foremost. But there are other issues bubbling under the surface, with fairness between generations featuring prominently in both main parties' approaches. Theresa May has identified 'repairing the intergenerational contract that underpins society' as one of the country's five giant challenges. Jeremy Corbyn's plan to build a Britain that 'works for the many, not the few' has a strong intergenerational flavour.
This new focus is welcome and deserves more airtime. Indeed our Intergenerational Commission has identified it as one of the key issues facing Britain today. But while the warm rhetoric is fine, what really matter are the policies on offer and how they're delivered. And here, although the party leaders may have identified a common challenge, their manifestos show they often have completely different views on how to best to tackle it.
There are elements in both the main parties' manifestos to interest younger generations bearing the brunt of intergenerational strains. There is relative consensus that policies to address the UK's housing crisis require a stronger government hand in housebuilding and ensuring greater security and stability for those renting privately. Both parties also want to invest more in technical and vocational education, an area that has been under-delivering for far too long.
Labour's plans to scrap tuition fees – the biggest single budget line in its costings document – may prove attractive to younger voters.  And both parties' commitment to infrastructure investment shows that the intergenerational contract extends not just to today's young people but to future generations too.
But it isn't all about helping the young. There is substantial investment in health and care from both parties, reflecting the shift in overall state spending towards functions that mainly benefit older people that has occurred over the period of fiscal consolidation.
The Conservatives have added an interesting twist in their proposal to fund social care out of peoples' estates. This is a new approach to revenue-raising that has been completely off limits for the last decade.  Given the strong concentration of housing wealth within older generations, it's an approach that may grow in importance in the coming years.
The generational balance in the main parties' approaches to public services and investment is absolutely central to the legacy the next parliament leaves. But it's complex to untangle and there are significant delivery challenges associated with many of the commitments. On the other hand – because we can put cash figures alongside the pledges – a firmer judgment can be made on tax and welfare.
To come to a view, the charts below show the impact of the main parties' policies across the age distribution, relative to policy in place today (thereby excluding from the baseline planned benefit and tax cuts announced by the current government but not yet implemented). These presentations are of course rather partial and short term – families will move up the age distribution over time and so feel something like the range of effects shown over their lives. But to the extent that tax and welfare policies are quite changeable from parliament to parliament, such a short-term view is material to how the next five years play out for different generations.
Turning first to the Conservative offer, the fact that £9bn of welfare cuts are yet to come means working-age benefit changes dominate the picture. As previous Resolution Foundation analysis has detailed, families of childrearing age look set to be hit particularly hard. However in a break with the Conservative approach in recent elections, pensioner families will also share some of the burden due to the removal of Winter Fuel Payments from all but the poorest. And while the switch from a 'triple lock' on the State Pension to a 'double lock' isn't forecast to make any difference at all in the near-term, it will in the long run.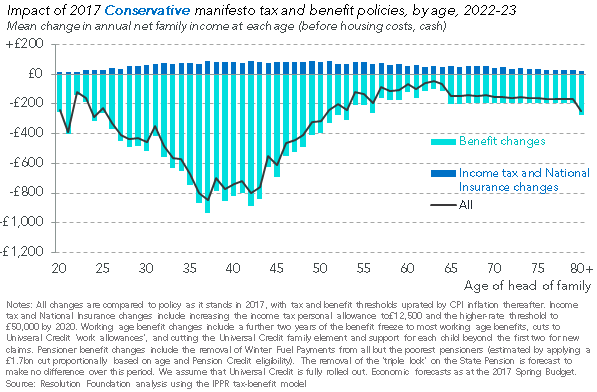 But even given these shifts, per-head pensioner benefits are still set to hit record highs over the next parliament under the Conservatives, while benefits for working parents could fall back to levels last seen almost 20 years ago.
Income tax cuts have been a prominent retail offer from the last two Conservative-led governments, cuts which are set to cost £22bn by 2020. But the tax offerings this time around are far more modest, with very small gains across the age distribution. And what's really clear from the chart above is that tax cuts don't come close to offsetting losses from welfare cuts for those age groups affected.
The overall picture under the Conservatives is that by 2022 the annual incomes of millennials (who will be aged 22-41 by then) will be reduced by £475 on average, by £390 for generation X (who will be 42-56) and by £120 for baby boomers (who will be 57-76).
Turning to Labour's package, the manifesto commits £2bn to mitigate the worst effects of planned benefit cuts but leaves nearly four-fifths in place. Therefore the welfare picture across the age range is similar to under the Conservatives, just a little shallower and with no reductions for pensioners. The clearer difference between Labour and the Conservatives comes in relation to tax. The effect of Labour's plans to increase income tax for those earning more than £80,000 is spread across the age distribution, but hits those in their 50s the hardest.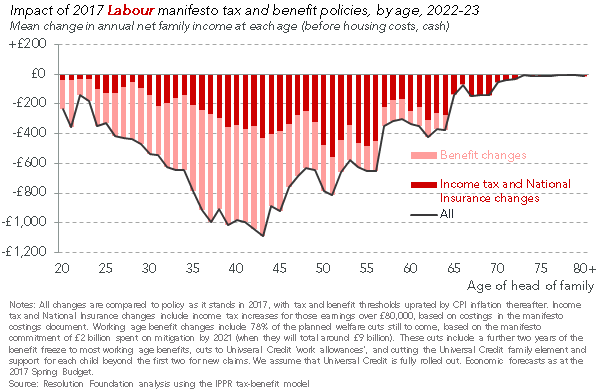 Labour's plans deliver the biggest income reductions to the gen X-ers – an average annual reduction of £760 in 2022, compared to £580 for millennials and £190 for baby boomers.
Perhaps surprisingly, Labour's plans will reduce millennials' incomes by more, on average, than the Conservative offer. However this is simply a function of the fact that Labour is raising more money overall. As a proportion of total revenue raised, the Conservatives would lean slightly more heavily on millennials than Labour plans to (48 per cent of net income reductions fall on them under the Conservatives, compared to 43 per cent under Labour).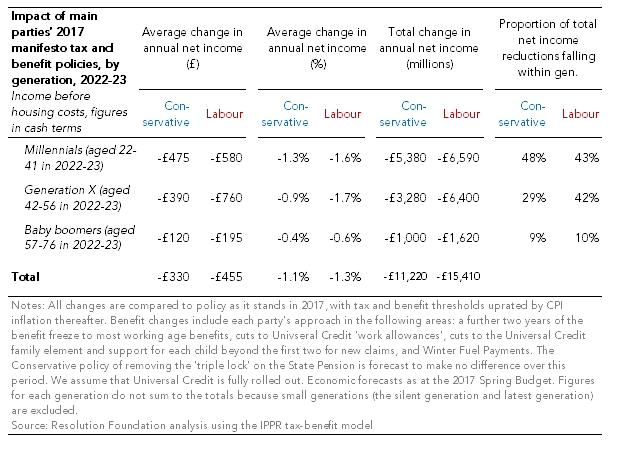 The overall picture of the parties' tax and benefit plans is strikingly similar, and worryingly bad for young families. Given our forecast for stagnant working-age incomes and rising inequality in the coming years, it's imperative that whoever takes power next month thinks again about how it supports working families if it is to do justice to the intergenerational contract.
Stepping back though, it would be wrong to score these manifestos purely through a winners and losers ledger for young and old. Intergenerational politics is not about conflict, but about delivering on the promise that cohorts support each other at different points in their lives, and that each generation's living standards match or exceed those of generations coming before.
There is mounting evidence that this promise is in danger being broken for many young people today. Ensuring it isn't should be the next government's priority when shaping post-Brexit Britain.