Labour market statistics analysis: a tepid pay recovery is emerging
The monthly labour market stats have followed a similar pattern for a while now; new employment records set, while pay continues to stagnate. Today's figures haven't quite followed the script.
Take pay growth first. Nominal wage growth has nudged up to 2.9 per cent for only the second time since mid-2015, with real pay growth strengthening to 0.5%. These are encouraging signs but it's still a pretty tepid pay recovery. After all, real pay hasn't grown by more than 1 per cent a year since 2016, and it hasn't hit 3 per cent now since 2003.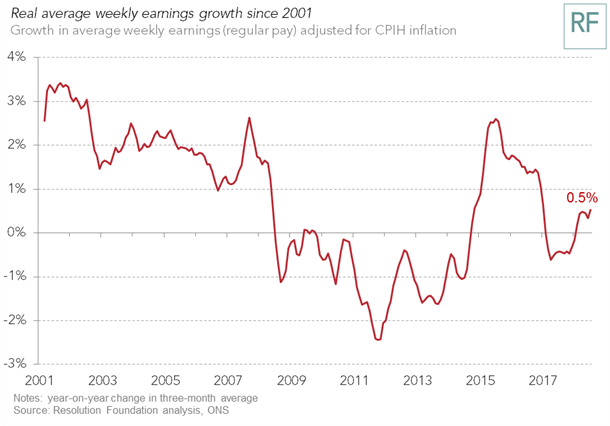 More encouragingly, the distribution of pay rises over the past couple of years has been skewed towards lower earners. Our Living Standards Audit showed that over the year to March 2018 real pay rose among the lowest-paid 40 per cent of workers, despite it falling for everyone else.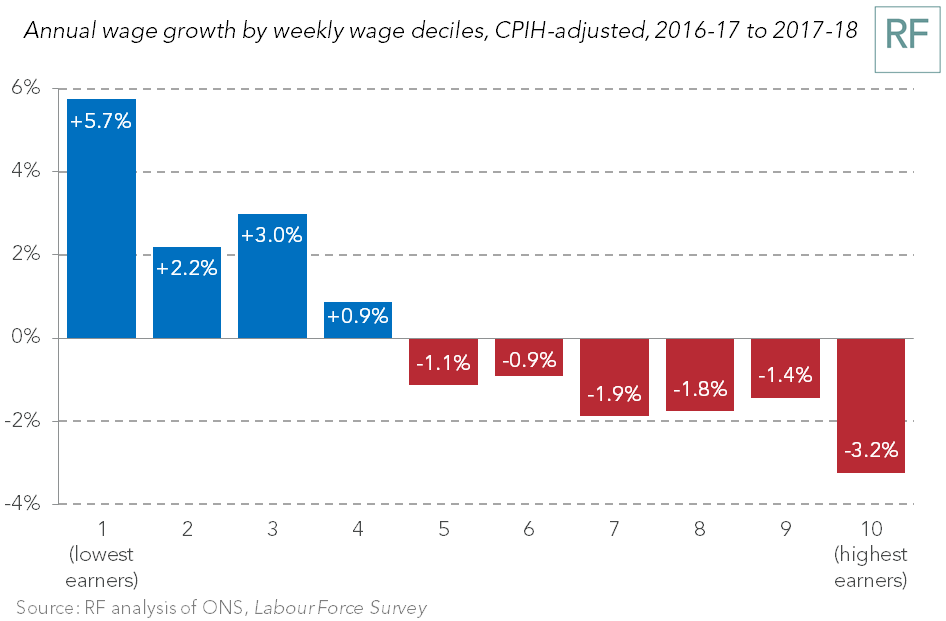 If you're looking for a pay rise, it matters a lot which industry you're in. Real pay growth is hitting almost 3 per cent in hospitality, food services and construction, while it's a very different story in the arts, where real pay is down by close to 5 per cent.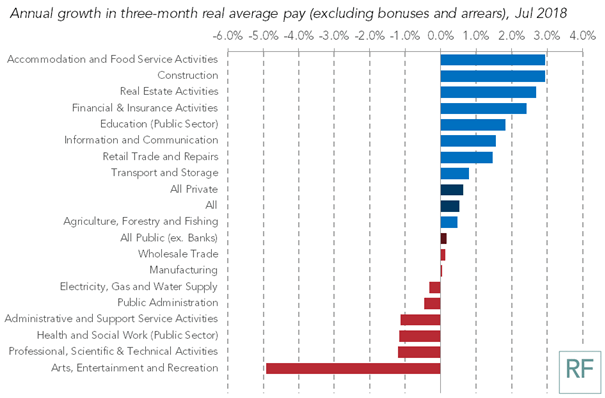 So, there are tentative signs of growing pay pressure in the latest figures. That's welcome as the big picture on pay remains pretty bleak – average earnings are still £12 a week lower than they were when Lehman Brothers collapsed a decade ago.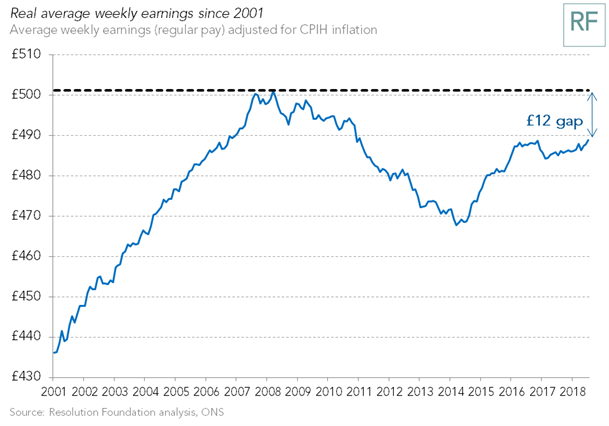 Turning to employment, the big question is how long the jobs boom is going to last. Compared to the previous quarter, the employment rate is little changed, with the number of people in work remaining close to a record high. Comparing employment and self-employment levels, we see further signs that the post-crisis boom in self-employment (not all of it to the benefit of the workers involved) is continuing to level off.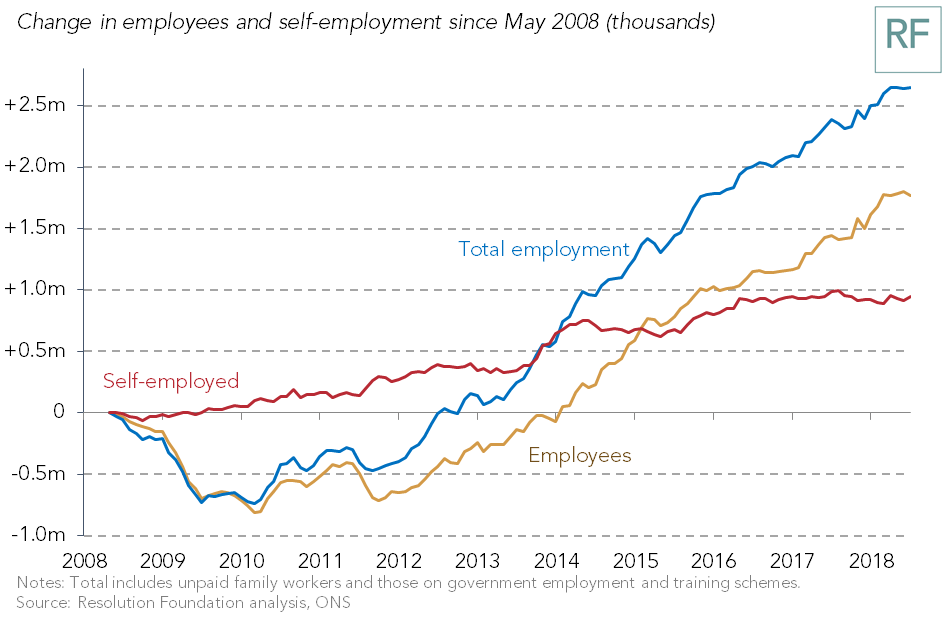 The more concerning shift is not so much between different types of work but from work to inactivity. In the last three months of data the number of 16-64 year olds not working or looking for work stood at 8.76 million, an increase of 108,000 compared to the previous three months and a small increase of 16,000 compared to one year earlier. The long-run convergence in inactivity rates between men and women has levelled off in the past year, though over that time inactivity has risen a little among men and continued to fall among women, leaving the inactivity rate among women 9.5 percentage points higher than among men (compared to a difference of 32.5 percentage points forty years ago).
In short, while avid labour market watchers look like they might have to endure the same script for a while longer, this month's data does at least offer a hint that the story might be starting to change on pay. The figures support the Bank of England's view that the pay environment is 'strengthening further', but don't expect any dramatic changes for the time being.
Employment is still close to record levels, with the important changes now being shifts from part-time to full-time work and away from self-employment. Just keep an eye on the numbers switching over to economic inactivity though. If the recent blip turns into a trend, it may give us new insights into unused capacity in the labour market.