The latest data on Apprenticeship starts offers cause for hope and concern
This morning the Department for Education published figures outlining the number and type of apprenticeships that were commenced during the first quarter (August to October) of the 2017-18 academic year – the second quarter since the apprenticeship levy came into place last Spring.  Inevitably, much of the focus today will be on numbers: how the levy affected apprenticeship starts, and is the government on track to reach of its target of three million apprenticeship starts in the five years to 2020.
The short answers to these two are: 'maybe, but it's still bedding in', and 'not at the moment'. The more thoughtful answer is that both of these questions miss the point; we should really be focused on the quality of and opportunities that stem from the apprenticeship figures discussed today.
First though, the numbers.  Overall, the number of starts between August and October 2017 was 114,400 – down 30 per cent on the same time period over the previous year. Despite this apparently disappointing performance, this is an improvement on the last round of apprenticeship starts (as the chart below shows).
Source: Department for Education
As with the figures for last quarter, if you're committed to the target it's not great news: to achieve three million new starts between 2015 and 2020 there would need to be an average of 600,000 per year. The first quarter of the academic year is naturally the one in which we'd expect to see the most starts: typically a third of all annual starts occur between August and October. So to be on track for meeting the target we'd expect 200,000 starts during Q1 of this academic year. Today's figures how the reality fell more than 40 per cent below target expectations.
However, it's not entirely the case that this fall is being by a complete lack of employer engagement with the apprenticeships and the apprenticeship levy.  As of 30 November, 12,200 apprenticeship levy-paying firms had registered an Apprenticeships Service Account (ASA), which allows them to take part in the system. As the chart below indicates, this represents almost two thirds of the 19,500 firms that the government initially expected to pay into the levy. Growth in registrations has slowed and time will tell if and when the remaining third of levy-payers engage with the system, and if smaller employers who don't pay the levy are able to keep up. Overall, levy-driven apprenticeships accounted for 40 per cent all starts between August and October of this academic year, as compared to 43 per cent during Q4 of the 2016-17 academic year.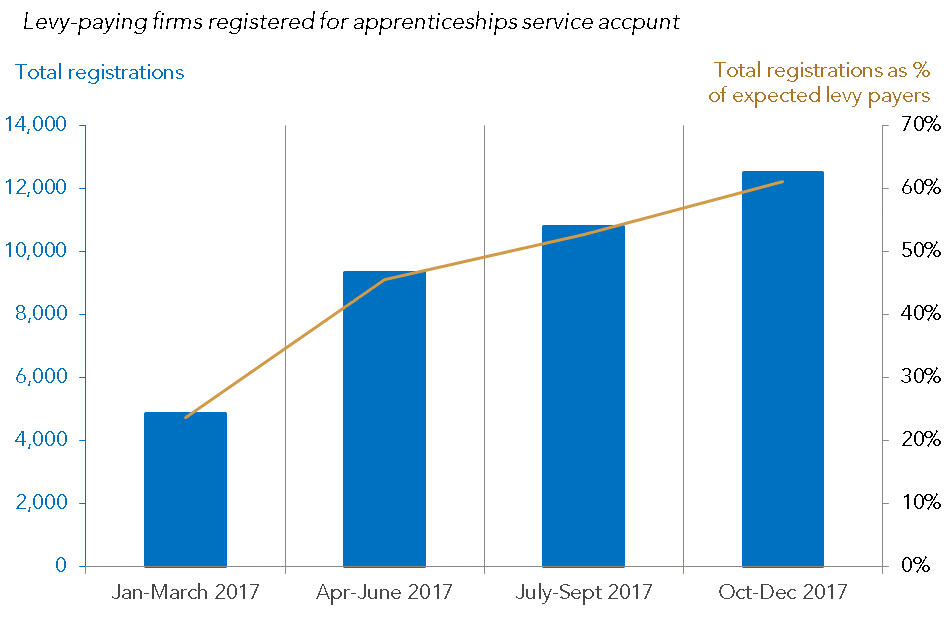 Source: Department for Education
There is, however, a lot going on beneath the headlines. While it's understandable that much of the focus today will be on the effects of the levy and the three million goal, we should not forget about what apprenticeships are designed for: to offer people the training, skills and experience that prepares them for a career – not a one-off job. Getting a handle on quality is difficult. However one slightly surface method for doing so would be to look at the level and age orientation of apprenticeship starts.
As shown in the chart below, over this quarter there were falls in apprenticeships at Levels 2 and 3, roughly equivalent to GCSEs and A-levels respectively. Today, however, we see overall growth in apprenticeships at Level 4 and higher (e.g. equivalent from a Higher National Certificate right up to a Master's degree). Factor in age and we see the biggest absolute fall occurred among those aged 25 and older doing Level 2 apprenticeships – this group saw a 56 per cent fall as compared to Q1 2016-17, and accounted for 30 per cent of the total fall in starts between the two periods. By contrast, the biggest rise was among those under the age of 24 on higher (level 4+) apprenticeships.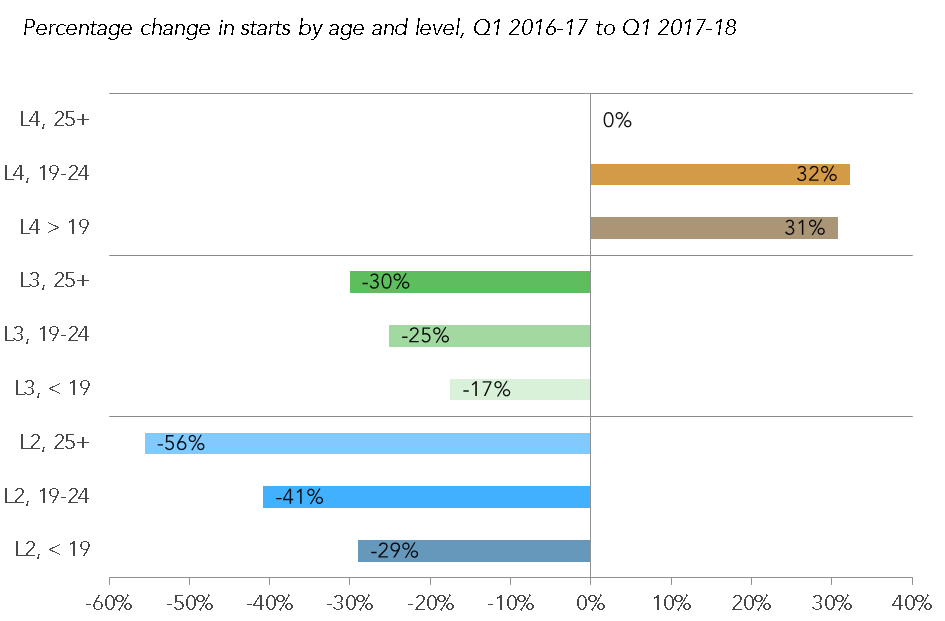 Source: Department for Education
In trying to get a handle on quality, we can also look to the Ofsted results for those who train apprentices. By this measure, as The Times reported on Tuesday, there is cause for concern with over half of providers being labelled as "requires improvement" or "inadequate."
Yet another way would be to look at the actual amount of training provided. When the levy system came into force last spring, it came with a series of new funding rules, including a welcome new requirement that apprentices spend 20 per cent of their time on off-the-job training (equivalent to eight hours a week for a full-time apprentice). The Government's own survey of Level 2 and 3 apprentices, however, shows that as of last year (before the new 20% rule came into place) a large proportion pf apprentices were receiving well under that amount.
For example, the average weekly hours spent on formal training in retail was six, in health and social care five, and in business four and a half. Given that these sectors accounted for roughly two-thirds of all Level 2 and 3 apprenticeship starts last year, it's imperative that government monitor that the quality – and quantity – of apprenticeship training is in accordance with its new rules.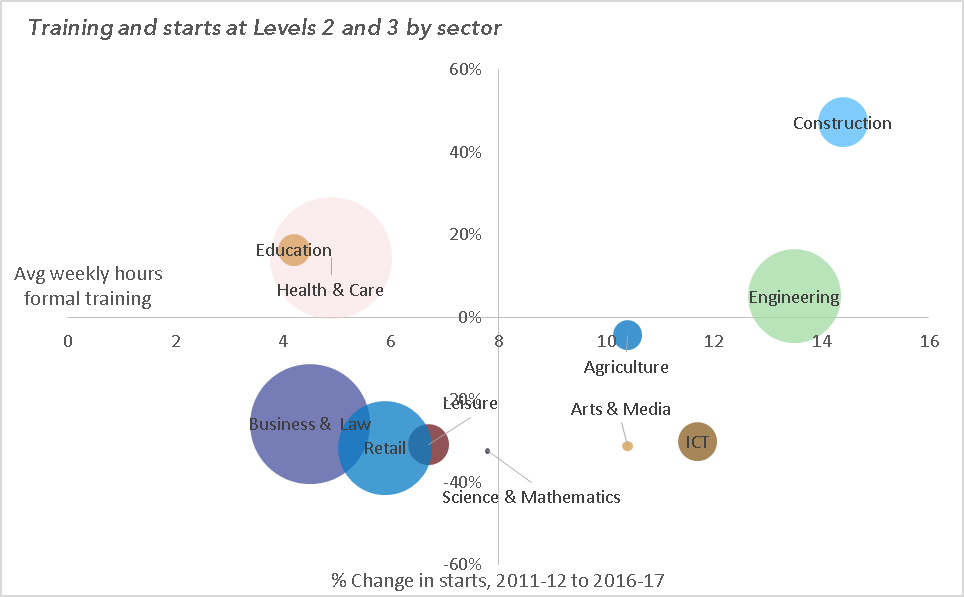 Bubble size indicates number of Level 2 and 3 starts by sector during 2016-17. Source: Department for Education
All in all, today's figures point to a continued fall in apprenticeship numbers – albeit one that appears to be slowing. While roughly one-third of the total fall can be attributed to apprentices age 25 and older taking lower level apprenticeships, we should be concerned that falls have also occurred among those age 24 and younger. More positively, the rise in higher level starts going to younger people is significant. At the end of an apprenticeship, however, it's the quality of training that will help determine outcomes and it's here that we all should be focused.