Is rising inequality helping to swell the coffers for Fortunate Phil?
Fortunate Phil is not what the Chancellor generally gets called. But as he prepares for tomorrow's Spring Statement, Philip Hammond – despite facing what looks like headline bad news – has at least some reasons to be grateful for good luck on both the economic and political fronts.
The Treasury is gearing up for the Spring Statement with a wonderful thing for a Chancellor – very low expectations. This means the normal pressures of having a big announcement, and it lasting more than 24 hours before unraveling, won't be felt. That's partly something the Chancellor gets credit for. After all, he created the Spring Statement to avoid having two Budgets a year, and to reduce the calls for big announcements. But it's really because everyone knows Brexit votes this week will overshadow the Spring Statement as deciding our country's future trumps forecasting it.
On the economics, at first glance 'luck' probably isn't the first word that springs to mind. The Office for Budget Responsibility looks set to downgrade its growth forecast for this year from the 1.6 per cent set out just four months ago, to something between 1 and 1.5 per cent. Household income growth still remains anaemic, with the OBR's forecast likely to be consistent with incomes actually falling this year. This weak growth will rightly take some of the headlines on Wednesday, but Fortunate Phil is lucky we're now so used to weak economic performance that it won't register as big news. He'll also be able to say, rightly, that the slowdown this time isn't just about UK specific factors – and point to an even more severe growth slowdown for the Eurozone (revised down by the ECB from 1.7 to 1.1 per cent last week).
More importantly on the luck front, this growth slowdown doesn't look set to cause bad news for the public finances in the short term. In fact, tax revenues and borrowing data are actually coming in slightly better than forecast in the Autumn Budget. If the current trajectory continues, we will be borrowing £3 billion or so less this year than the OBR thought back in October. The result is he can celebrate overseeing the lowest official borrowing figures for 17 years – and probably the lowest we'll see again for quite a few years to come once the cost of student loans come onto the books.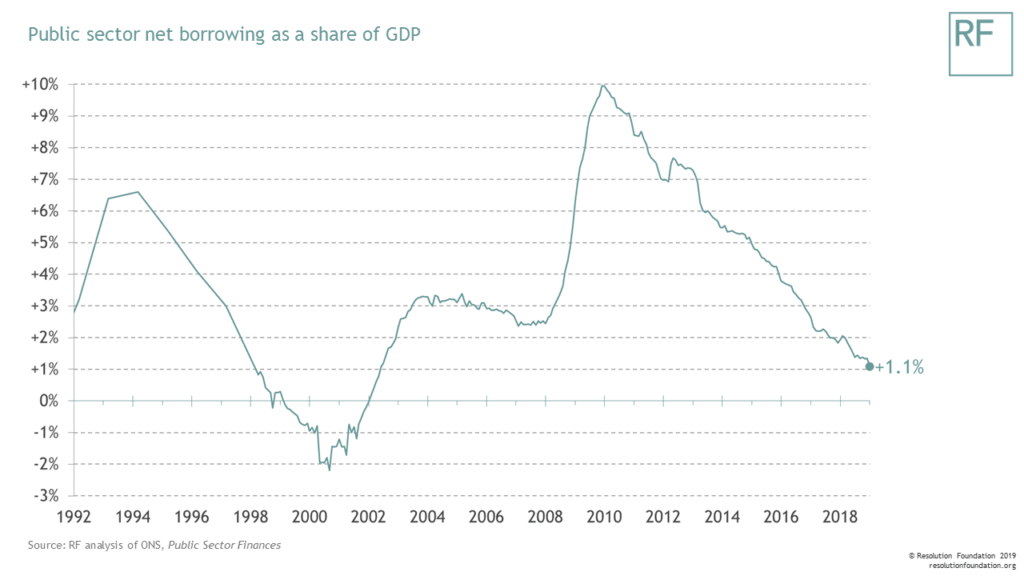 Why are the public finances looking better than the growth figures that usually drive them? One possibility is we're understating the growth figures, while the fact that the slowdown is particularly investment driven means it has less short term fiscal impact. But another clue comes from which tax is coming in particularly strongly – income tax is up by 8 per cent so far this year. This is partly because employment and earnings are outperforming the OBR's autumn forecasts. But it's also got something to do with who is getting those earnings.
After an extended period of lower earners seeing the fastest earnings growth, we're now seeing things picking up for higher earners once again, as the chart below shows. While overall our tax system isn't particularly progressive our income tax system certainly is – with an extra pound going to a high earner bringing in 45p, compared to zero for the lowest earners. Strong pay growth at the top is also part of the reason for an uptick in overall income inequality that the ONS reported last month. So lucky Chancellor, unlucky (and unequal) society.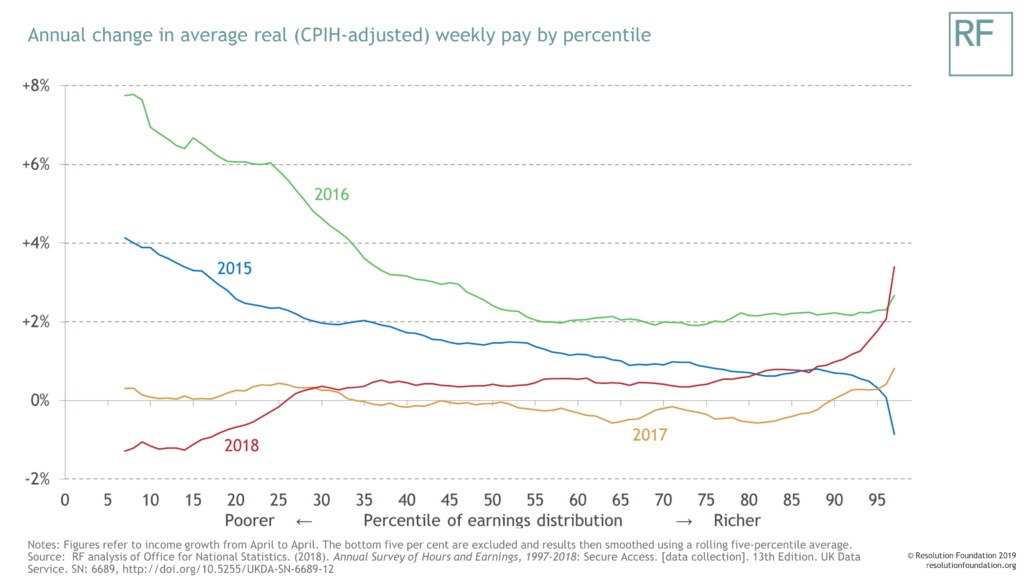 The result of this improvement in the public finances is that the Chancellor is likely to have more than enough headroom to end austerity – given that the price tag for departmental spending rising in line with the overall economy is around £11 billion, while scrapping the last year of the benefit freeze would cost £1.5 billion. The only reason the Chancellor won't be announcing exactly that policy is Brexit, and specifically his argument that fiscal headroom should be maintained in case it is required to support the economy in the event of 'no deal'. That argument doesn't make a huge amount of economic sense as he's saying he'll increase spending whether or not there's a deal. But there is a political rational of sorts of promising sunny uplands if MPs back the Prime Minister deal.
More generally on the politics it's hard to say the Chancellor is lucky substance wise, given his government looks set to lose today's vote on its core governing purpose. But there are upsides for the Chancellor. Firstly he almost certainly gets to see no deal ruled out by the Commons a few hours after his Spring Statement – a goal that has been his Treasury's main objective for the past two years. And secondly it marginally increases the chances of him keeping his job – by keeping Theresa May in hers for a little longer. You never know, depending on the length of any extension the Chancellor might even get to deliver the long awaited Spending Review in the Autumn. The bar is so low that maybe this is what being lucky in politics in 2019 looks like.
So while a new nickname of fortunate Phil might be overdoing it, the Chancellor certainly has some grounds for gratitude. The government is borrowing less, he has some room for manoeuvre to end austerity. And you never know – he might get to keep his job for a few more months.